-Kalibre Academy Presents-
THE KALIBRE EXPERIENCE
(MMA & Peak Performance)
THAILAND RETREAT
28th Jan - 4th Feb 2024
Escape to paradise on the idyllic island of Koh Phangan with our premier retreat!
Discover your unique code to access peak performance states. Learning how to build grit, tap into flow, and deploy active recovery, equipping you with the tools to conquer life's challenges.
APPLY NOW
Suited for all levels, this retreat is more than just a getaway. It's an experience specifically crafted to harness the cornerstones of human potential: Grit, Flow, and Recovery.
Immerse yourself into the realms of BJJ, Muay Thai, Yoga, Biohacking, NLP, Meditation, Krav Maga, Breathwork, Ice Baths, Sauna and the serenity of Nature.
Learning key techniques from our talented team of trainers, including special guest: LEO NEGAO (4 x BJJ World Champion).
 Whether you're a seasoned professional looking to optimise your capabilities or someone in search of a renewed sense of purpose and vitality, our retreat offers an opportunity to connect, grow, and transform.
Join us for a week of rejuvenation, revitalisation and revelation.
Welcome to your journey towards peak performance. Dive in. The best version of yourself awaits!
Train in Authentic Thai Gyms
Boost your fitness level, confidence and skills with some of the worlds top trainers in Muay Thai, Krav Maga & BJJ.
Explore & Connect
Experience Thailand at its best in one of Koh Phangans most famous resorts.
High Performance Coaching
Take part in our daily group coaching sessions where we focus on Mindset, Nutrition, Sleep, Grit and Flow State.
Retreat to Include
7 x Nights Accommodation
6 x Days Training with World Champions
Resort Transfer From Port
Complete the Level 1 Kalibre Krav Maga Syllabus 
2 x Ice Bath and Sauna Sessions
1-1 Certified High Performance Coaching
Daily Group Coaching on "The O.P.T.I.M.I.S.E Method"
Group Classes: Yoga /  Breathwork / Meditation / Sound Healing
The Island
Koh Phangan. Thailands unspoilt paradise island.
Pristine Beaches
Tropical Forests
Traditional Thai Markets
Epic Sunsets
Mountains, Waterfalls and Nature
The Resort
Sunset Hill Resort - Koh Phangan.The resort's founders based the concept of the resort on the belief of creating an environment of "Health, Happiness and Enjoyment" and have instilled these beliefs into the resort's service team so that guests can truly experience the beauty of Koh Phangan to the fullest. At Sunset Hill guest are treated like honored friends instead of just customers, which will make you feel relaxed and at home.  
The Accomodation
Offering some of the best facilities on the island. Rest in comfort in Sunset Hills Garden View Delux Room, or upgrade to the Sea View Suite .
Contact us for upgraded Sea View Room. (in picture)
Testimonials:
The Kalibre Experience 2023
Leo Negao
(SPECIAL GUEST)

Leo was born in Rio de Janeiro, Brazil. He started to train at Carlson Gracie's academy in 1993 together with Murillo Bustamante, Amauri Bitteti, Mario Sperry, Vitor Belfort and others. At this time Carlson Gracie himself was the coach for Leo Negao and these aforementioned fighters.
In 1998, he moved to Sao Paulo to join the Alliance Jiu Jitsu team which had been founded by Romero "Jacaré" Cavalcanti, Fábio Gurgel and Alexandre Paiva in 1993.

In 2002, Leo Negao trained with Vitor Belfort and Antoñio 'Minotauro' Nogueira to develop his striking techniques. Thereafter, Leo Negao moved to Sweden and opened BJJ and MMA schools around Europe.

Having trained with the likes of Carlson Gracie, GSP and Anderson Silva in his career Leo's list of accolades could stretch a mile long and include:

* Winning the World BJJ Championships 4 times
* A Vale Tudo champion with 17 wins and 0 losses under his belt
* Chief Instructor of Urban Krav Maga

Leo's moves are so deadly that he was even banned from competing in the UK's "Cage Rage" championships, this guy is so tough he makes Chuck Norris look like Mary Poppins.
 Breathwork
Release emotions and learn how to regulate your physiology with Soma Breath Instructor guided breathwork.
 NLP & High Performance Coaching
Learn concepts from NLP and how they can be applied to your martial arts training, personal life and professional life. We do a modeling exercise board break, as well as other practical techniques to crack the code of high performance.
 The Krav Maga Syllabus
We cover all the basic moves in the Level 1 Urban Kalibre Krav Maga Syllabus which include how to defend yourself against the 10 most common street attacks and more. Urban Krav Maga is real defence for the streets, a scenario-based fighting style that's not dependent on punching power and/or brute strength. Urban Krav Maga draws on many years of experience in the following fighting systems as well as various styles of Krav Maga: Karate; Brazilian Jiu Jitsu, Traditional Jiu Jitsu, Aikido, Boxing, Muay Thai, Vale Tudo and MMA. Urban Krav Maga recognises the importance of pre-emptive strikes for self-defence – action always beats reaction, the aim is to equip the student as soon as possible to defend themselves against the most common attacks they may face. We teach everything that is needed for self defence when it's necessary in all environments, including highly confined crowded spaces, cars, shopping centres, nightclubs, buses etc.
 BJJ
We are honoured to have 4 x BJJ World Champion Leo Negao as head coach who was taught directly by Carlson Gracie in Brazil.
Alongside Leo Negeo we have two other Black Belt BJJ coaches for the Kalibre Experience Thailand retreat: Anton Kim, head coach at Alpha BJJ in Koh Phangan and Duane Harper who will be traveling from the UK to teach our guests under Leo Negao.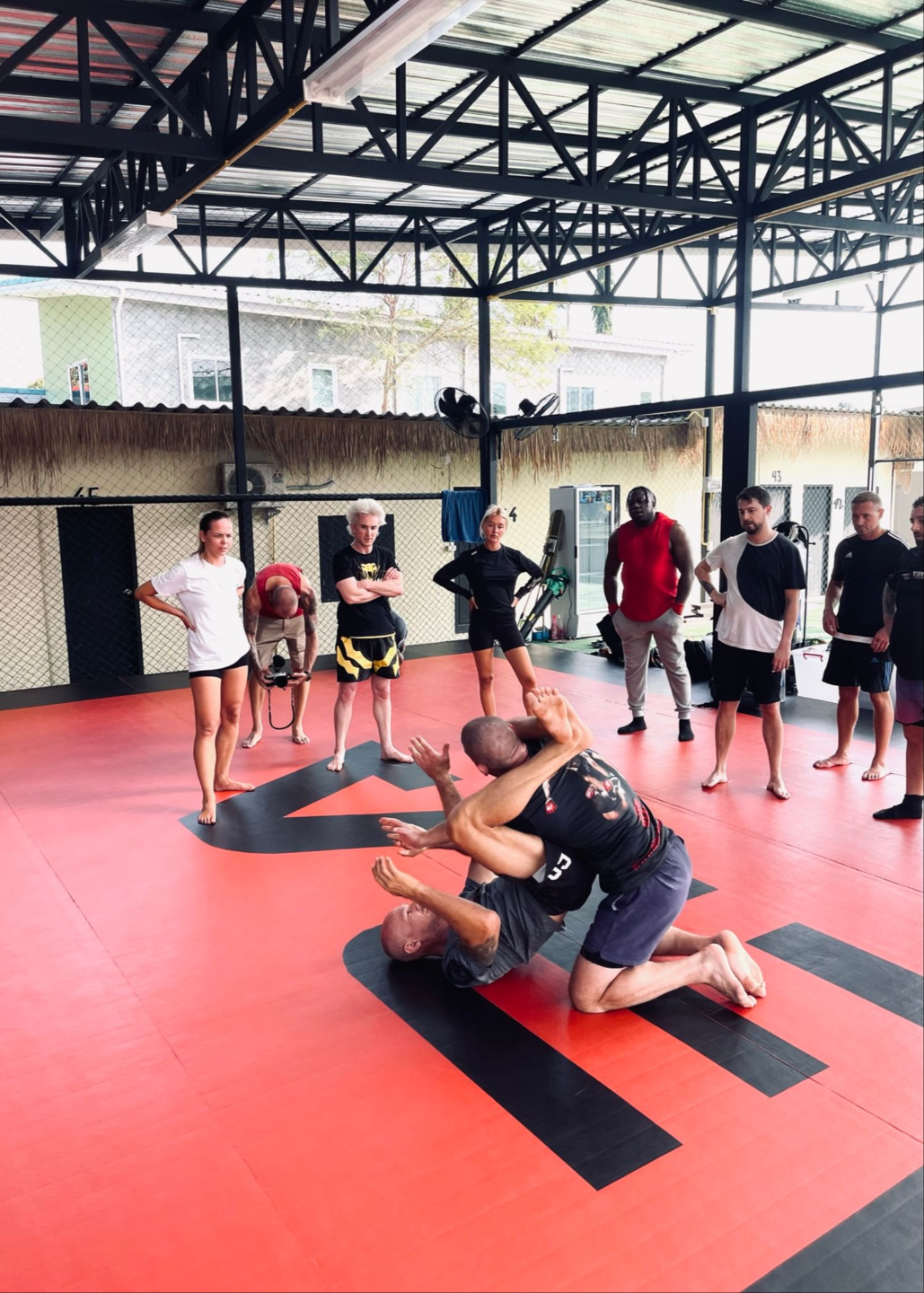 The Pressure Test
At the end of the week you will have the opportunity to put your skills to the test, with 8 mins of endurance demonstrating your self defence moves.
Jasmine O'Brien
"Great class and a great instructor who paced it well and gave one to one guidance too. Felt like an ideal combination of fitness and self-defence. Left on a high and will def be back!"
Paula Waymore
"Fun and dynamic. Perfect combination of a workout & learning defence techniques. James was patient and knowledgeable. Left feeling AMAZING! Will definitely be back."

Des Kennedy
"As a beginner and having passed my Level 1 learning Krav Maga has changed my life, giving me more focus and confidence in my day to day life. The sessions are both fun and challenging."
  How much training per day?
What locations will we train in?
How many other trainers will there be?
  Do I need any previous experience?
How many other people will be on the retreat?
What will the schedule look like?
Groups size numbers are limited. To join us in Thailand - book your application call with one of our team.

Book a Call